Exclusive Strap-on Femdom Pegging Comics
If you love watching beautiful women fuck men with big strapon cocks this is the place to be. Femdom pegging is an exquisite pleasure in real life and when it comes in the form of Hentai comics and cartoons it just opens up new horizons of erotic enjoyment. Here men can take the biggest strap-on cocks up the ass with ease and the pleasure they feel overwhelms the making both them and their girlfriends and wives cum really hard. Join us right now and watch these sexy ladies put guys on their fours to fuck their brains out with absolutely no mercy. Beware, these Hentai pegging comics will make you wanna enjoy this fucking craziness over and over again and eventually you just might feel the urge to try it too.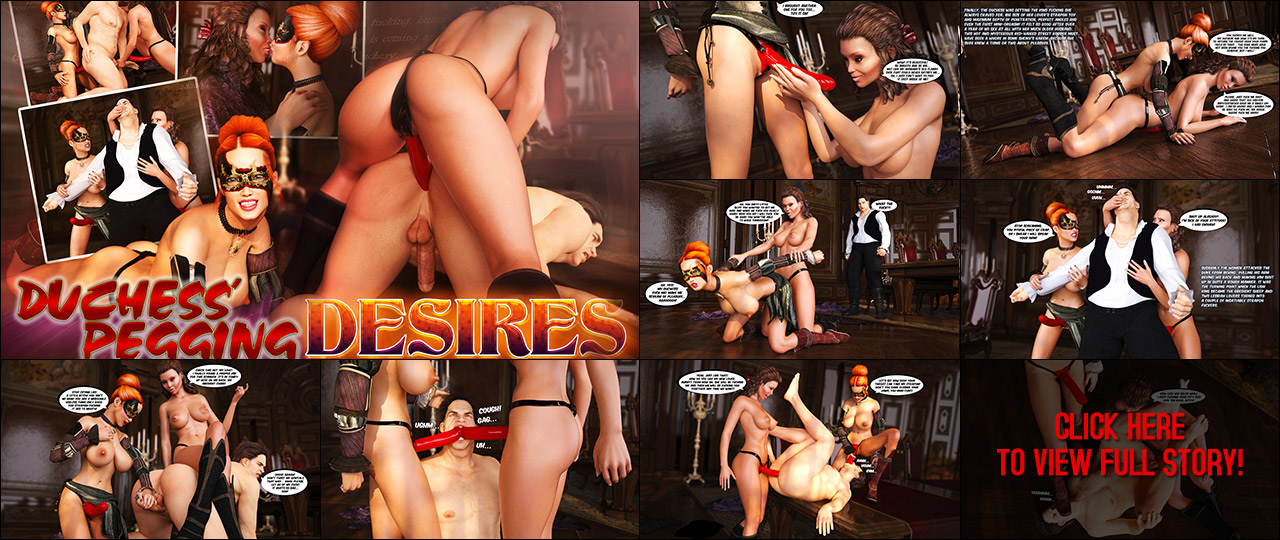 Equipped with irresistible looks and massive strapons, the two women took absolute control putting the Duke through some rough double fucking spiced up with intense man-whore humiliation. They fucked him into a total disgrace and made him cum all over himself turning a once powerful aristocrat into their obedient sextoy. Now they can do whatever they want in this castle because they rule his ass, his dirty man-whore desires and his submissive side. From now on, the former street robber will be one of his strapon queens and his mouth and ass will be just two fuck targets she shares with his beautiful and utterly perverted wife. What a turnaround!
Desperate Hotwives CFNM & Strap-on Pegging Comics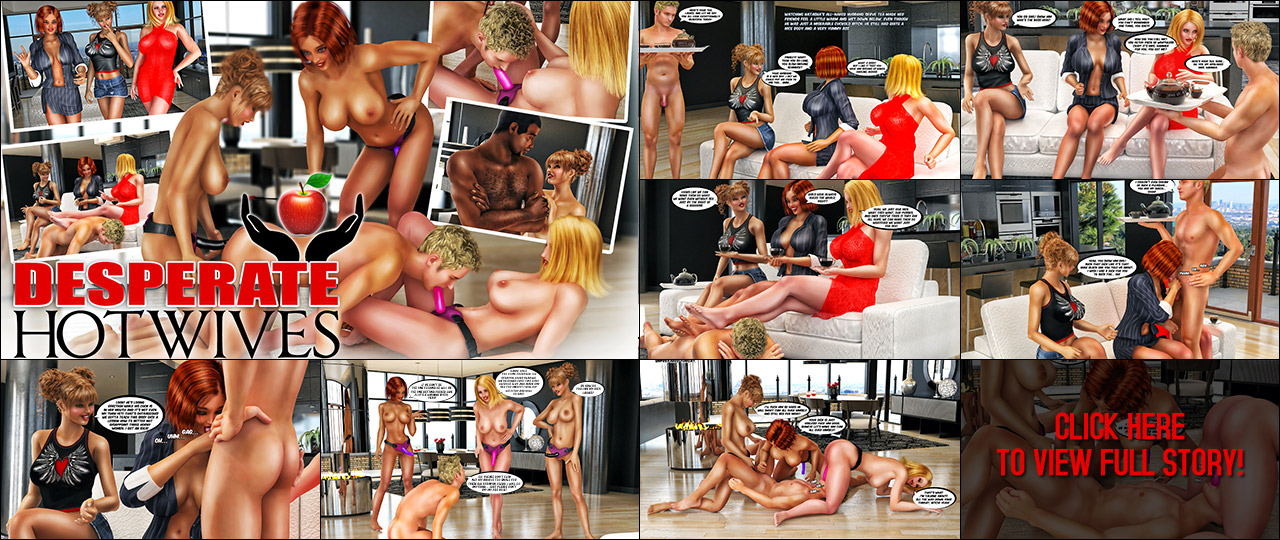 Having turned her obedient husband into a spineless sissy cuckold Natasha kept looking for new ways to humiliate and punish this poor bastard. One day she had two of her best friends over for a tea party, girl talk and maybe an occasional strapon orgy. It all started with some usual cuckold slave stuff. Serving the tea naked, being used as a hassock for the women's legs and getting slightly humiliated and joked at - Ben already got used to all this and took it like a loyal slave should. However, as the women started getting more and more excited their desires became more and more erotically advanced and kinky.
Holiday Beach Pegging Adventure Femdom Comics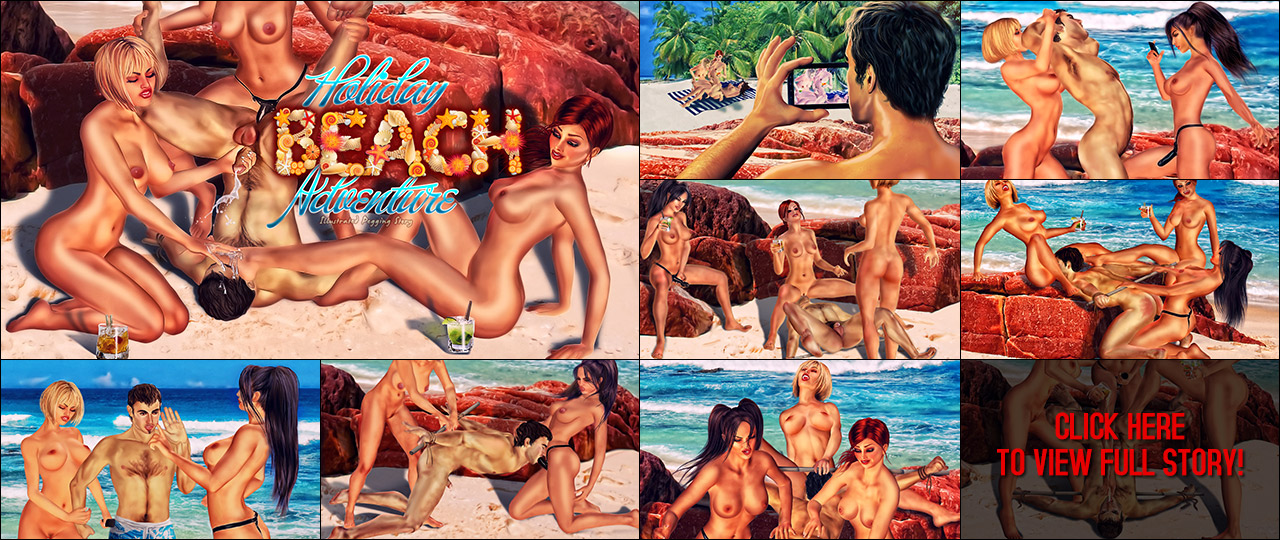 Welcome to the famous tropical femdom beach, a place where beautiful and utterly depraved Hentai chicks dominate and strapon-fuck submissive tourists right on the sand. Watch one of our favorite femdom Hentai comics of the summer with three local babes teaming-up to make some poor bastard their one-day slave, sit on his face and give his ass some wild pegging action by the means of black strapon cock.
Strap-On Goddess Do Sissy Slave Femdom Pegging Comics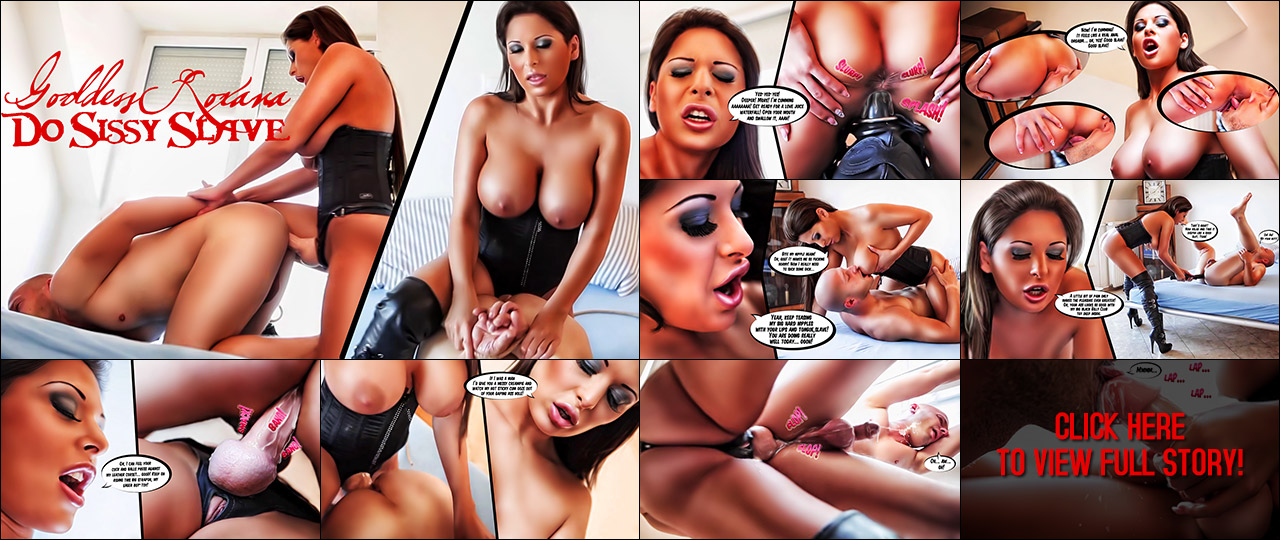 Hentai porn comics and kinky cartoons star Mistress Roxana is a gorgeous big-breasted femdom goddess with much love for giving men anal pleasure through rough dildo probing and intense pegging action. This time she has a new sissy slave in to sit on his face, make him drink her love juice and power-fuck his tight chocolate hole with her favorite strapon cock for his, hers and your pleasure.
The Bet Sissy Femdom Pegging Comics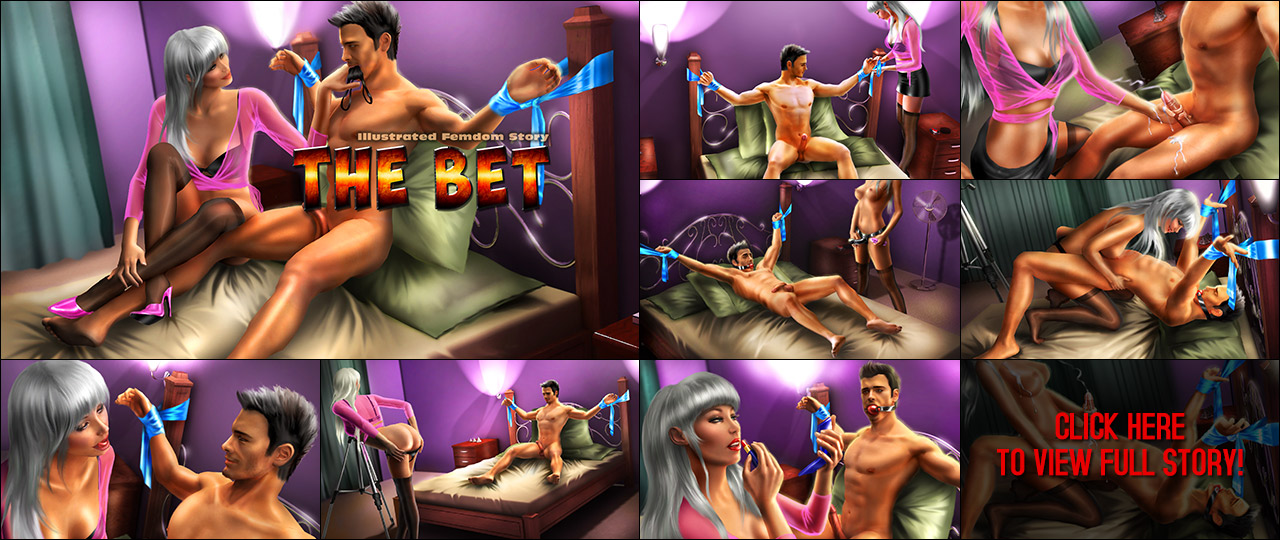 This poor guy lost the bet to a gorgeous and kinky lady and now it's time for him to take his first ever femdom strapon punishment. He has never tried pegging before and his tight butthole is not even ready for a full-depth dildo penetration. Poor shmuck, he's gonna get tied to bed by his new femdom goddess, then manually pleased to orgasm and strapon-fucked with absolutely no mercy. One of the best pegging comics in our kinky Hentai porn collection. A must-see!
More Jaw Dropping Femdom Pegging Comics!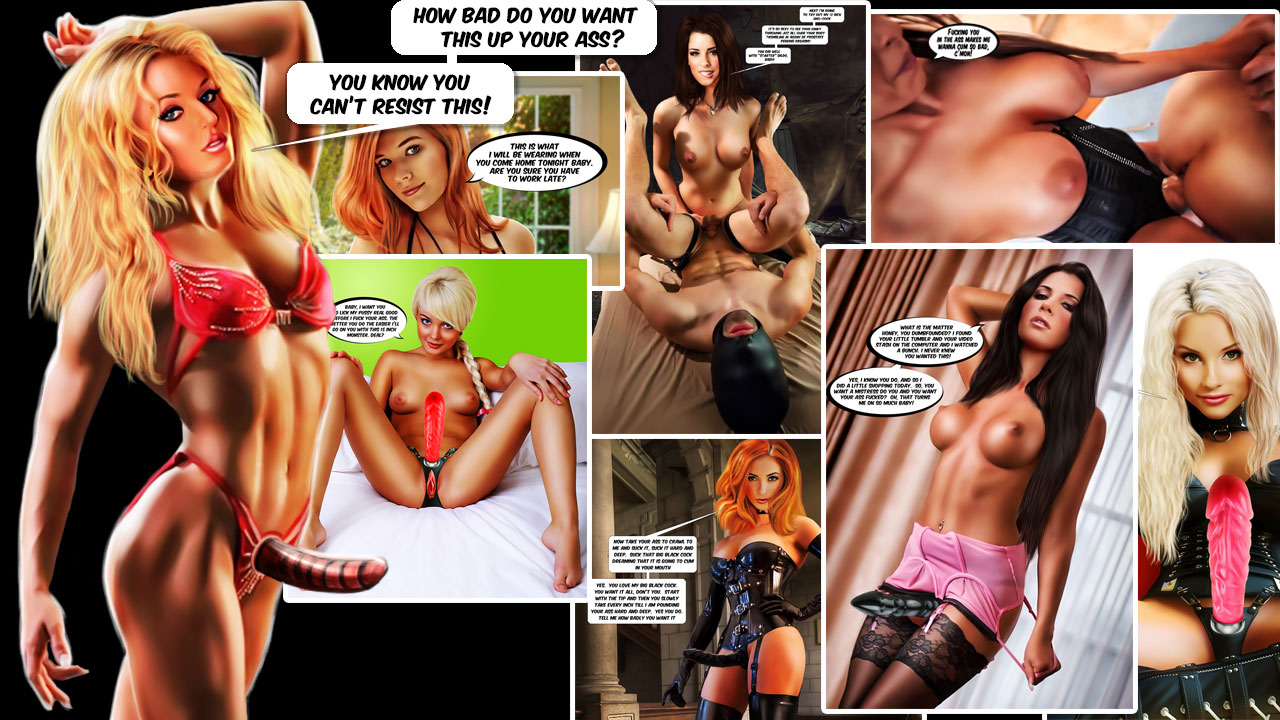 Some Of Hot Pegging Femdom Sites Bonus Free Access

All characters appearing on this web site are at least 18 years old.

Copyright © 2016 Pegging Dreamer. All rights reserved.